The spring is coming! It is getting warmer again, nature blossoms to life, and the sun is shining longer again. Who does not think of an active or relaxing holiday in this time? Both are possible with Amfibie Treks. Relax on the beach, read a book in the hammock or get a relaxing massage. If you want to be active, Amfibie Treks has many options.
But why should you wait until July or August when in May and June the temperatures are on average already at 21 -25 degrees and the sun shines 9 to 10 hours a day on average? In addition, nature is also beautiful in the months of May & June.
The flowers are in bloom, the colors make a strong contrast against the blue sky, perfect for a nice hike or mountain bike tour through the untouched nature in Sardinia.
If you book your holiday at Amfibie Treks now, you will get 50% discount on the tent of your choice.
This promotion is valid for the months of May & June and only applies to new bookings made before April 15th.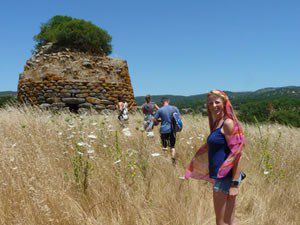 In May and June we also offer special weeks for over 50 year olds. Are you an active over-50s, do you like walking, cycling, water sports, discover new places, enjoy nature, go out with others, but also relax, then this is an ideal holiday for you. Various activities such as a guided walk through a protected nature area, an extensive lunch in a traditional Agriturismo, yoga and a cultural day excursion are included. Of course there is also plenty of time to relax or take extra activities such as sailing, mountain biking or windsurfing.
The stay is in a luxury Safari tent with private sanitary facilities.
For more information see the Active 50+ page or contact us for a free quotation. If you find a week a little short then you can of course extend your holiday.
See you soon on sunny Sardinia, your Amfibie Treks team.