During the tours you experience the beautiful Sardinian countryside in a unique way. The length and difficulty varies from an easy cycling tour to a real mountain bike tours along narrow lanes with steep hills and fords. You cycle on a good quality bike and we have cycle helmets available for participants.
Some experience with mountain biking is appropriate and reasonable fitness is required. Bring your own: cycling shorts, cycling gloves and water bottle. In the summer, when temperatures are high, we set off early so that you have the afternoon to relax, sunbathe, swim, snorkel or read a book in a hammock or on the beach.

Individual

You can book on the spot for one or more mountain bike tours, or you can book in advance for three different cycle trips.
Your stay at the campsite is full board and you can choose which type of tent you would like to stay in: standard or more luxurious (comfort, comfort-plus ot deluxe with private facilities).
Per week 3 guided mountain bike excursions: Tuesday, Thursday and Saturday
Period: all season
Age: from 14 years (minimum height 1.6 m)
Prices:
€ 30.00 per guided mountain bike tour (book and pay on the spot
€ 85.00 for 3 guided mountain bike tours (book in advance or pay on the spot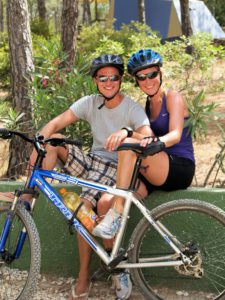 Group Holidays for singles – Active beach-relax
In the spring and autumn Amfibie Treks organizes all inclusive active-beach-relax holidays. During these holidays are a walk, a mountainbike tour, a watersportday with sailing, windsurfing and catamaran sailing, an inland excursion and a massage included. Enjoy the beautiful nature, the scent of herbs and pines during the mountainbike tour in the low season. To relax your body completely, you get one relaxing massage in a specially designed massage hut.
Arrival Dates: April 22, May 20, June 10, June 17, June 24, August 19, August 26, September 2 and September 9. Would you like to stay more than a week , then you can book some extra days. Do you need help finding a good flight ? Please contact us.
Price: from € 480.00 per person
Includes: accommodation in a spacious 1-person tent at campsite Amfibie Treks with bed , mattress , bedding, chair, lighting , full board , 1 guided walk , 1 guided mountain bike tour , an inland tour and one massage, using canoes , body boards and snorkeling equipment and club card . Free participation at the yoga sessions in morning at 7:00 am and the afternoon at 17:30.
Examples of cycle tours
A. Mandras – Berchida – Capo Comino – Mandras
Duration: approx 3 hours, approx 35 km          Level: easy-medium
From the campsite we cycle on a dirt road along the beach towards Capo Comino. We turn off towards Irgoli (paved road) and after a few kilometers take the dirt road through the countryside to Berchida. We come out on the provincial road towards Orosei and follow this for a short way to the turn off towards Berchida beach (dirt road). Here we cycle along the coast on the unpaved road to Capo Comino. We pass the Capo Comino lighthouse where we come back onto paved roads. Just along the road we can go to the café and have a drink, after which we cycle the last leg back to the campsite.
B. Mandras – Onifai – Irgoli – Mandras
Duration: approx 4.5 hours,  approx 58 km           Level: tough
From the campsite we cycle on a dirt road along the beach towards Capo Comino. We turn off towards Irgoli (paved road) and after a few kilometers we start climbing into direction of Onifai. We cycle through a wooded area with a number of climbs. On the way we can fill our water bottles with fresh water from a spring. We continue our way towards Onifai and take the turning to Irgoli. Here we have a drink at the bar in the middle of the square. Then we cycle past a number of murals, for which the village is famous. We then continue our route on a hilly paved road back to the campsite.
C. Mandras – Posada – Lake Maccheronis – Santa Lucia
Duration: approx 3 hours,  approx 50 km            Level: medium
We cycle from campsite Mandras off road along the beach to Santa Lucia direction La Caletta. Just before La Caletta we go off road again and we pass Posada with it's magnificant tower through Torpé in the direction of lake Maccheronis. We cycle past the new dam and follow the river back towards Torpé on unpaved and paved roads. We cycle past orchards and finally arrive at Torpé where we can, after the long ride, have a drink at a cosy bar. Then we cycle back, along Posada Lake, through San Giovanni past the harbour of La Caletta back to the campsite.