Climbing at the rockformations by Posada tower
This is a climbing wall with multiple routes. From simple routes that are manageable for everyone, to difficult routes with overhanging sections that can offer a challenge for even an experienced climber. Climbing is sport where we work together in a relaxed environment, helping one another and belaying each other for safety. But above all climbing is a fun challenge for everyone. When you make it to the top, don't forget to kiss the carabiner!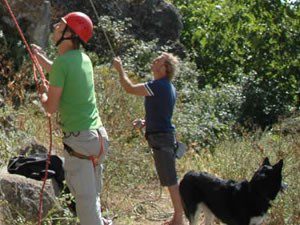 Period : mid June – mid September
Price: € 29,00 p.p.
Trip: ± 3 hours
Drive: ± 30 minutes way
Walk in: 5 minutes
Walk out: 5 minutes
What to wear: Closed shoes with laces
Who can join: Everybody from 6 till 70.
Families are very welcome
What to expect: Climbing for beginners and the intermediate climber. Working together and helping each other out with belaying and finding the good route to the top. Multiple routes at the climbing site.