The great thing about an Amfibie Treks holiday is that everything is done for you. Your tent is ready and all meals are prepared. You can just enjoy yourself! During the meals, the activities and the daily happy hour you easily make contact with your fellow travelers and other Amfibie Treks guests from all over Europe. A relaxed, casual and cosy atmosphere in a beautiful location on the Mediterranean Sea, what more could you want!
Lazing on the beach in the sun or an active holiday? At Amfibie Treks you do what you please. The all inclusive holiday includes activities such as body boarding, canoeing and snorkeling. If you want more activities you can book a windsurfing course, a Varuna sailing course, or a catamaran sailing course. We also organize guided walking tours and mountainbike excursions.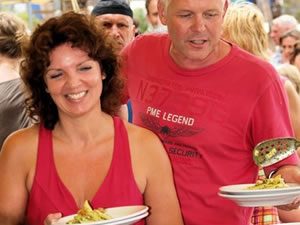 Italian food
Many guests return to us because of the pleasant dining experience and the fantastic international atmosphere. Full board is a great experience, holiday enjoyment without extra costs. An extensive breakfast buffet, lunch, Italian menus, Sardinian wine, salads and fruit. Everything comes freshly prepared to the long wooden tables where everyone can come to dine.
Breakfast and lunch
In the mornings breakfast is served in the form of a buffet. Between 8.15 and 9.15 hrs you can enjoy fresh bread rolls, cheeses, sliced meats, jams and fruit, coffee, tea and milk. For lunch you can choose to make a packed lunch or you can eat lunch at the campsite. The lunch consists of salads and various hot dishes. Various soft drinks and water are served with the lunch.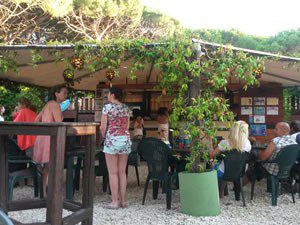 Happy Hour and Dinner
For the daily friendly Happy Hour we drink our home made sangria, beer, wine or a soft drink. Enjoy yourself and meet new friends! Dinner is served from 20.00 hrs. The Italian meal consists of a starter, for example pasta, risotto or soup, a main course of meat or fish with vegetables and salad followed by a dessert. White wine, red wine and water are served with the dinner. If you would like a special diet please let us know when you book.
Details All inclusive
Extensive breakfast from 8.15 – 9.15 hrs
Lunch from 13.00 – 14.00 hrs
'Happy Hour' from 19.00 – 20.00 hrs
Dinner starts at 20.00 hrs
Drinks suitable for each meal are included.
---
Here we are happy