With Amfibie Treks you know exactly where you are. Not only are costs for meals and drinks with the meals included, but the all-in price also includes cooled drinking water, beach activities such as canoeing, body boarding and a drink during the daily Happy Hour. All this for no extra cost.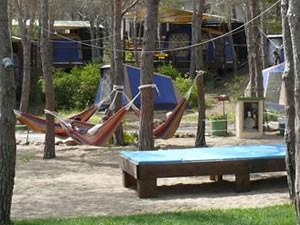 The journey to Sardinia is not included in the Amfibie Treks holiday prices. You book your own tickets to travel to Sardinia, by car and the ferry, or by by plane.
More information can be found on our page Getting to Sardinia. Call or e-mail us for advice.
We have no fixed arrival and departure dates, you decide when you arrive and when you leave. The minimum stay is 3 nights. The daily rate, depending on the season, is given in the price list.

 Online booking
Click on "Online booking" above to open the booking form and to calculate the cost of your holiday. After the booking has been sent, you will receive a booking confirmation by email within a few seconds.
If you have questions or if you would like help with your booking please call or send an email to info@amfibietreks.co.uk