Would you like to go on holiday with a group of friends or your school, then Amfibie Treks is a great option. Would you like an active watersports holiday or rather a quiet holiday, to walk, to relax with yoga or a refreshing massage? With Amfibie Treks everything is possible : hiking, mountain biking, canyoning, sailing or a relaxing massage. Also for schools Amfibie Treks offers an attractive and affordable program. With Amfibie Treks everyone can find the holiday that suits him or her!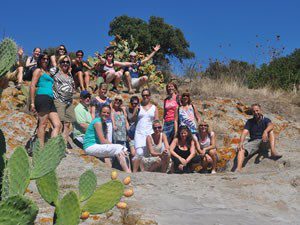 Group holidays
A family reunion or long weekend with a group of friends, Amfibie Treks will do everything to make it a success. The tents are ready and all meals are arranged, so you will have all the time to undertake activities together. Do you want a special programm wih activities or an extra excursion, we can help with the organization.
You can choose to stay in a standard tent comfort tent, comfortplus tent or safari tent with shower and toilet, all including full board. That's really celebrating a carefree vacation!
Whether you want to relax and enjoy the sun, sea and nature, or you want sail, catamaran sail, windsurf, snorkel, hike or mountain bike, with Amfibie Treks everything is possible!
Schools
An active week or a watersports week on Sardinia, the second largest island of Italy, at an affortable price. The campsite is located about 2 km from Santa Lucia; From here we do all the activities.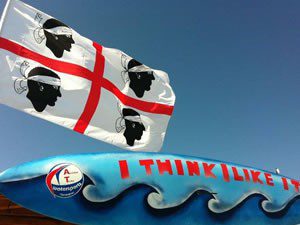 During the week we work in small groups of 8 up to 10 people maximum and you can do different kind of sports. Every day we can do two or three activities which the school can choose itself. The activities are supervised by instructors from Amfibie Treks. Your stay includes full board: continental breakfast, lunchbuffet and italian dinner, so many pastas and fresh products.
Various activities can be organized such as:
sailing
windsurf
kayaking
snorkeling
excursion inland
walking tour
climbing and abseiling
mountain bike excursion
Call us or send an email to info@amfibietreks.co.uk
---
Trailer Amfibie Treks Vacanze SRL