The campsite lies approximately 2 Km south of the pretty village of Santa Lucia which can be reached by a path through the woods along the coast. The campsite borders onto many pebble and rock beaches. Approximately 500 metres from the campsite is a sheltered bay ideal for swimming and snorkeling. The beautiful Capo Comino protected beach and sand dunes are easily reached through the woods along the shore from the campsite.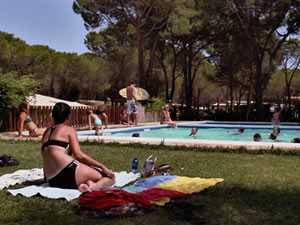 Facilities
On the campsite you will find a reception area, well cared for clean toilet and shower facilities with free hot water, a swimming pool with a grassed area for sunbathing, a separate children's pool, a relaxing area with hammocks, a children's playground and a tennis court. There is also a pizzeria, a bar with a terrace, a happy hour bar and a small campsite shop. In the evening, the terrace is open at the pizzeria for a drink with your fellow travelers.
In a quiet area of the campsite you will find our wellness department. You can meditate here, get a massage or relax in the Jacuzzi. There is daily free yoga for guests.
All Inclusive
The great thing about an Amfibie Treks holiday is that everything is done for you. The standard tent, all meals, daily happy hour drinks and some activities such as snorkeling, canoeing sit on top and use body boards are included in the basic price. For more detailed information see All Inclusive.
Tents
You can choose to stay in a standard tent (included in the basic price), comfort tent, comfort plus tent or lodge tent with private en-suite facilities like shower, toilet and hand basin. For more detailed information see Tents.
Shuttle service
For those of our guests who do not have their own transport there is a free shuttle service in the morning and afternoon to the beaches at Capo Comino and Santa Lucia. Would you also like to visit the nice town of La Caletta for shopping or to withdraw money, we will bring & collect you (€ 5, – per person for a return ticket).
Water Sports Center Amfibie Treks
On the sandy beach of Santa Lucia you will find the Amfibie Treks water sports center. You can pay to follow a varuna sailing course, a catamaran sailing course or a windsurfing course. Here all guests of Amfibie Treks Vacanze can have free use of canoe, bodyboard and snorkel equipment. The beach shelves gently into the sea which makes it ideal for children to play in and to swim. For more detailed information see the Watersportactivities.
Activities and Excursions
Besides all the watersport activities, you can take part in a number of other adventurous activities such as: hikes, mountain bike tours, boating excursions, trips into the interior, canyoning, sea kayaking along the coast of Orosei, climbing and caving. In short: A week will be too short. For a more detailed description go to the Activities.