You can relax completely, you can let all tensions go and fill yourself with new energy.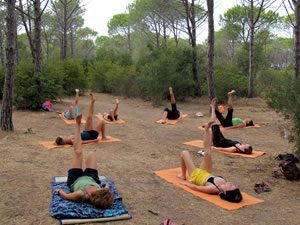 Start the day with a relaxing hour of yoga by the beautiful shore. This is free for guests staying at Amfibie Treks.
To make your stay as pleasant as possible on campsite Mandras you can use the Jacuzzi and the swimming pool. You can, of course, also swim in the sea, the shore line is just 5 minutes walk from the campsite.
To get rid of stress or to care for your tired body after a walk you can put your name down for one of our varied massages or take part in a meditation session.
The fresh air and peace of the pinewood make Mandras the perfect place to relax in the middle of nature. Lonely beaches right by the campsite invite you to enjoy a walk along the coast.
Group holidays for singles
In the spring and autumn Amfibie Treks organizes carefree all-in active-beach-relax and walking-beach-relax holidays for singles: relax and enjoy the son, sea and nature! Start the day with a relaxing hour of yoga by the beautiful coastline alternated with aqua aerobics in the swimming pool and relaxation in one of the whirlpools. To completely relax your body you receive a relaxing massage in a specially equipped massage hut once or twice a week. Go windsurfing, sailing, canoeing and snorkeling, or read a good book while relaxing in a hammock near the pool.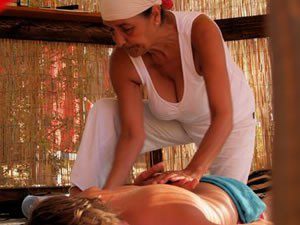 Massage programme
Would like to spoil yourself during your holiday? Then make an appointment at reception for a massage or Reiki session. A session lasts from 45 minutes to 1½ hours, prices from € 35,00 per session.
Various massages that are offered in our monthly changing programme:
Holistic massage: a combination of different techniques and much ether oil is used. Body and soul are considered to be one and the masseur uses techniques from classical, Thai and Shiatsu massage.
Classical Massage: consists of kneading and stroking over the whole body. Ether oils are used. The aim is to relax the body, to improve the blood flow and to stimulate the lymph.
Shiatsu: pressure point massage. Energy channels in the body, known from Chinese acupuncture, are stimulated.
Thai massage: stimulation of the blood flow through tissues and organs, the relaxation of the muscles and the expulsion of waste materials from the body. The masseur uses elbows, knees, feet and arms to fully stretch your body.
Ayurvedic massage: strengthens your body and helps to get rid of waste materials. It makes you sleepy, you feel relaxed and it gives you new energy.